Thank You for Joining BEYAQI at BEAUTY DÜSSELDORF 2023 - A Recap of Our Successful Exhibition
Views: 346 Author: Site Editor Publish Time: 2023-05-23 Origin: Site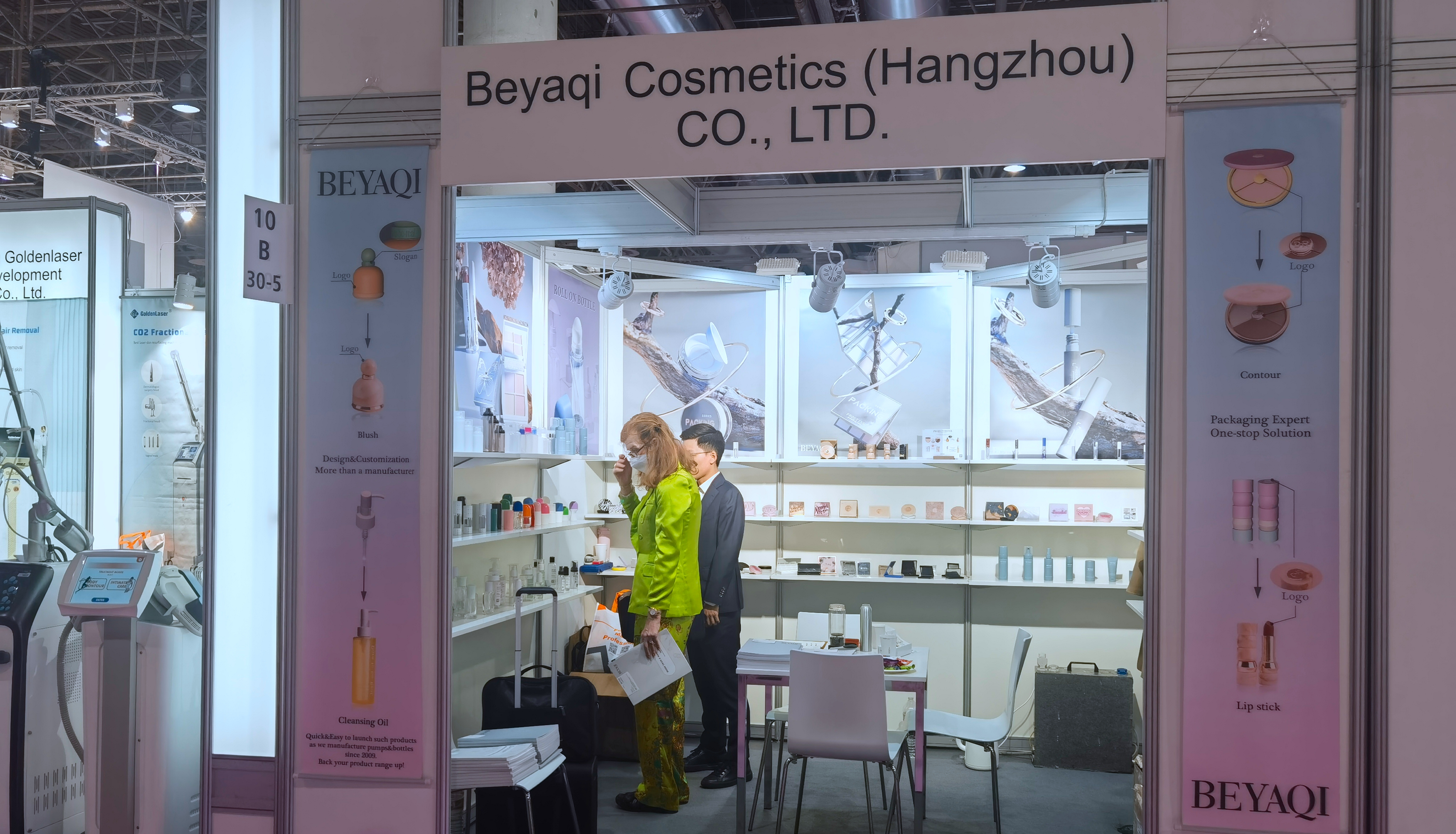 Dear Esteemed Customers and Partners,

We would like to extend our heartfelt gratitude for your presence and support at BEAUTY DÜSSELDORF 2023 in Düsseldorf, Germany. The exhibition was a resounding success, and we are thrilled to have had the opportunity to connect with industry professionals, showcase our innovative packaging solutions, and discuss future collaborations.
At BEYAQI, we are dedicated to pushing the boundaries of packaging design and manufacturing, and our participation at BEAUTY DÜSSELDORF allowed us to demonstrate our commitment to excellence. We are delighted to share some highlights from the exhibition and give you an overview of the exciting developments that took place at our booth.
Throughout the event, our booth at Hall 10, Booth B30-5 buzzed with energy as we engaged in meaningful conversations with visitors like you. Our team of experts was on hand to showcase our extensive range of packaging solutions, including our environmentally friendly PCR packaging options and our versatile makeup packaging designs. We were thrilled to see the positive response and enthusiasm for our products.
One of the highlights of the exhibition was the unveiling of our latest innovations in packaging design. The integration of sustainability and aesthetics was at the forefront of our display, with our PCR packaging options stealing the spotlight. We showcased how PCR packaging can be both environmentally friendly and visually striking, offering you the opportunity to align your brand with sustainable values without compromising on quality or appeal.
Furthermore, our makeup packaging collection garnered significant attention. From elegant lipstick tubes to versatile compact powder cases, our designs captivated visitors with their blend of functionality, style, and durability. We took great pleasure in discussing your specific packaging needs and exploring tailored solutions that perfectly reflected your brand's identity.
During the exhibition, we were honored to host several informative sessions where our experts shared industry insights and trends. These sessions provided valuable knowledge and sparked engaging discussions on the future of packaging design and its impact on brand success. We sincerely hope that you found these sessions enriching and informative.
We would also like to express our gratitude for your participation in our Free Design & Free Sampling service for makeup packaging. It was a pleasure to collaborate with you, offering personalized design solutions that exemplify your brand's essence. We hope that this experience has sparked new ideas and possibilities for your future packaging endeavors.
Once again, we thank you for your continued support and trust in BEYAQI. It is through partnerships like yours that we are able to innovate and redefine the packaging landscape. We remain committed to delivering exceptional packaging solutions that help elevate your brand and meet the evolving needs of the cosmetics industry.
If you have any follow-up questions, feedback, or would like to further explore our packaging offerings, please do not hesitate to reach out to our dedicated team. We value your input and look forward to continuing our collaboration in the future.
Thank you for making BEAUTY DÜSSELDORF 2023 a tremendous success. Together, let's shape the future of packaging and create memorable brand experiences that resonate with consumers worldwide.
Warm regards,
BEYAQI